We weren't quite sure what to expect because the continent is in itself such a large and deeply diverse geographical and geopolitical space. Would it be country by country, ethnic group or nationality and what would go into the selection process for curation?
The exhibit covered two floors with a multitude of sections, cornered, centred, framed and open plan : African Cultural Renaissance, The Politics and Poetics of Cloth, Vanguard, Capturing Change, Minimalism , Mixology , Artisanal, Afrotopia, Sartorialists, and Adornment.
---
This ensemble explores new and old weaving techniques and features works from Nigerian designers Nkwo Onwuka and Kenneth Ize. Nkwo's DAKALA CLOTH upcycled denim and sustainable designs explore ways of using waste materials in her designs while still preserving traditional textile craft skills.
Lagos-based Kenneth Ize designs are a modern take on Akwaete – traditional Igbo weaving techniques which use palm, hemp, and cotton strands to produce thinly woven, multicoloured delicate blankets of fibers.

---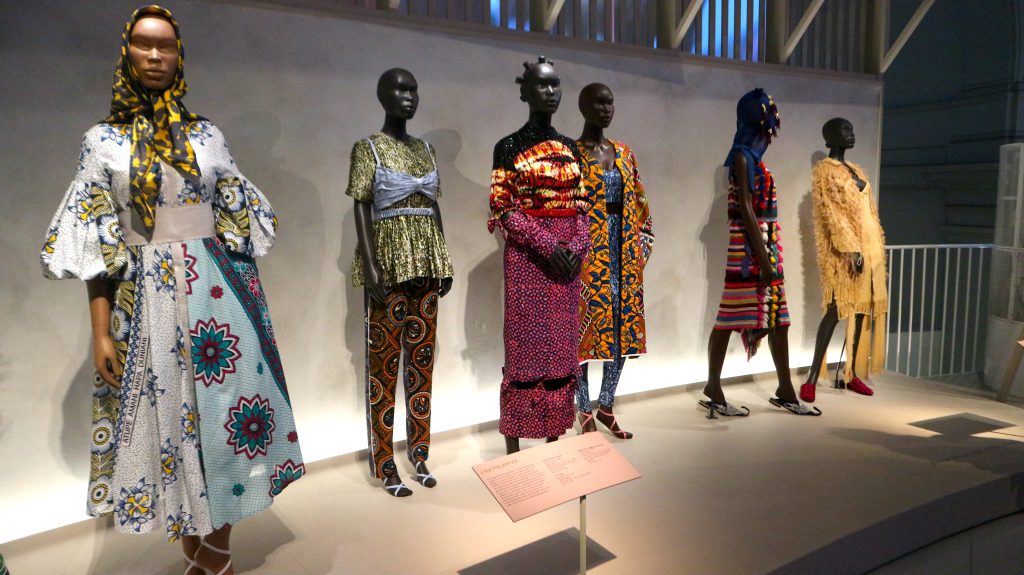 Absolutely love Lisa Folawiyo's attention to detail in embellishments on print fabrics and flapper-esque super chic silhouettes.
Emmanuel Okoro of Emmy Kasbit, champions Akwaete, a traditional igbo from the 19th-century.
This ensemble features pieces from designer Bubu Ogisi founder of womenswear brand IAMISIGO.
'Gods of the Wilderness', a handwoven, multi- coloured wool dress, a blue net veil made from recycled polyamide fishing nets and embellished with yellow wool fringes, and velvet slippers created in collaboration with visual artist Chioma Ebenema . Ogisi was inspired by traditional west African abstract performance art, referencing ancient west African masquerade costumes.
---
Àdìrẹ is an indigo-dyed cloth traditionally produced by Yoruba women in south-western Nigeria
Awa Meité is a fashion and textile designer based in Bamako, Mali. Cotton is integral to Awa Meité's collections. She is inspired by the process that takes cotton bolls from plant to cloth and seeks to highlight the unique qualities of cotton through her designs, aiming to expand her customers' knowledge and appreciation of the material. Mali is the largest cotton producer on the African continent and the industry employs around three million people, however, less than 5% of the cotton grown in Mali is processed within the country and is instead exported in its low-value, raw form. Meité seeks to change this by supporting local processing from field to loom, therefore maintaining jobs and enabling cotton production to provide higher income to local communities.

V & A Museum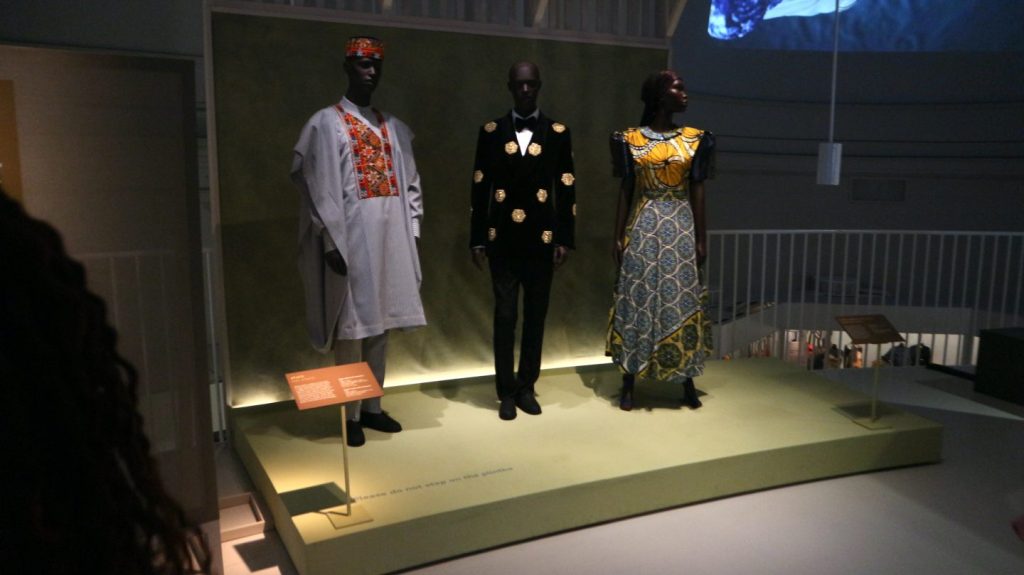 An ensemble consisting of an agbádá, shirt and trousers in striped cotton and a fillà of cotton velvet, embrodiered with synthetic thread in bright colours.
---
Spanning iconic mid-20th century to contemporary creatives through photographs, textiles, music and the visual arts, Africa Fashion will explore the vitality and global impact of a fashion scene as dynamic and varied as the continent itself.Africa Fashion

Africa FAshion
Africa Fashion, Asia Fashion, Europe Fashion, saying it together like that sounds grammatically incorrect. Though I appreciate the concept and enjoyed the exhibit, there is always that tingling inside about AFRICA as a continuous single lens story. "Is it African or not? What makes it African? The struggle and resistance or just and because it is borne of the indigenes and their influences in the continent ?" My questions were and still are;
"Will these pieces ever be on display in this way on the Continent?
Where do we go to find out about these archival pieces outside of the Western gaze?"