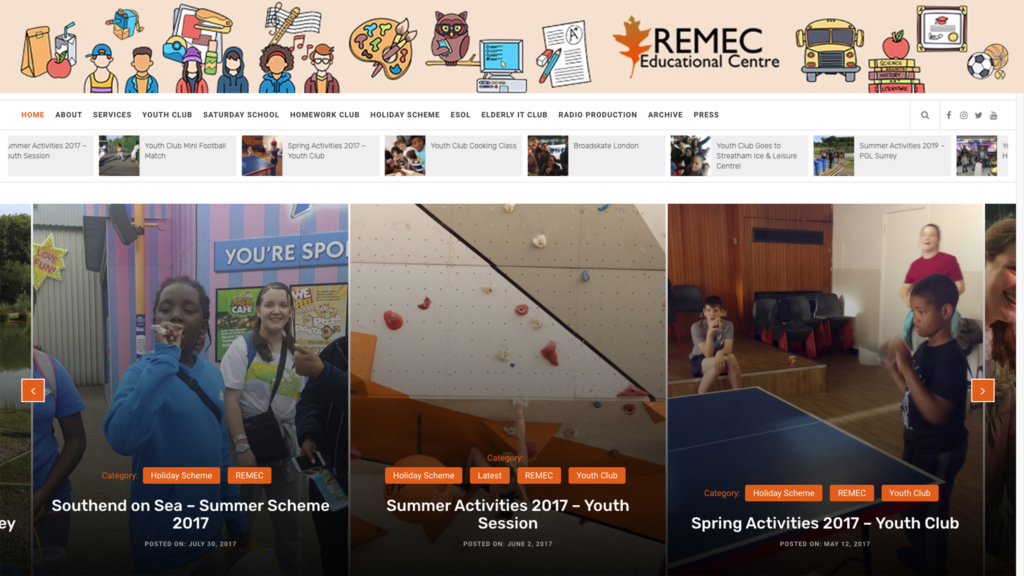 REM Educational Centre (REMEC), provides a safe environment for young people to socialize, interact and have fun, within the heart of a caring community.
Started in 2000 as Reconcilers Children's Club, by 2012, it had helped over five hundred children and young people. Teaching Maths, English, Science and ICT and preparing young people for GCSE and SATS.

It is situated in Scotney Hall on the Winslade Estate, also known as Lovelinch. The Youth Club makes provision for various actives to support our young peoples social, physical and emotional needs. This is provided through grants and other fundraising.
Open to Lewisham young people, especially those living in and around New Cross Gate. All Welcome.
SERVICES INCLUDE:
REMEC Saturday School & REMEC After School Homework Club
The Homework Club has helped over 600 children and young people, after school since beginning in 2000. This project is still on-going helping children of the poor and the marginalised, the majority of them Lewisham children and young people.
Remec Youth club started in 2006. Has been a great gathering for children and young people in this area of North Lewisham. It provides social, cultural, health and well-being facilities for young people.
Since it started the youth club has supported over 500 young people, grow up, and develop their interpersonal skills. Many of our youths have gone on to further their education in college, and university with the help of our safe and healthy environment, made available to them when parents were managing tight schedules and multiple jobs to make ends meet.
The Youth Club is still ongoing providing a safe space for children and young people in North Lewisham since the year 2000.  Every holiday, every summer, we provide activities that educate, occupy and help the children and young people to socialise and have fun and live safely together.
Other Services include:
REMEC Holiday & Summer Activities
Football, Hockey, Dodge Ball, Bull Dog, Basket Ball, Healthy Cooking, Healthy Eating, Dance & Movement, Making & Recording Music, Table Tennis, Swimming, Bowling, Outings & Visits to special places, Etc.
In all these years and in all the activities above, REMEC has helped a lot of volunteers who have moved on in life to bigger and better jobs.
REMEC Radio & Media Training Group (audio, video and radio)
We have facilities that are set up to train, not only for young people but for everyone in the community to learn about the media, whether it be audio editing, video editing of broadcasting on radio. These are skills that are transferable and can be applied to other areas of work.
REMEC Online IT Centre
REMEC has over 15 computers in our suite which we use to teach computer and information technology to the children and young in the area. We have also given computer lessons to the older
REMEC ENGLISH LESSONS FOR ADULT SPEAKERS OF OTHER LANGUAGES
REMEC is providing lessons in English language to adults who want to learn English, especially adults who English is their second language. You may want to improve your language skills to enable you to work, study or to live in the UK.

We will help you to develop your listening, speaking, reading and writing skills. We will help you to work on your grammar and you will have the opportunity to study and go for nationally recognised qualifications.
Courses are run only from 10am to 4pm, weekdays.
Elderly IT Club
People Lewis Silken House next door to Scotney Hall. We also serve as the only internet café in the whole of the community.
Food Bank
VENUES:
Scotney Hall, 17 Sharratt Street, Off Ilderton Road, London SE15 1NR
All Saints Community Centre, 105 New Cross Road, New Cross Gate, London SE14 5DJ

Give them a Like on FACEBOOK
Find out more via REMEC.ORG
Follow them on Linkedin